It's 2:45am, and this is what I'm working on.
Erm
, taking a break from working on:
I picked this pattern up a while ago, and I'm finally getting around to doing something with it. With this Simplicity 3688 Retro pattern, I'm starting with the blouse. Little surprises along the way like the way shoulders become defined through the construction are what make sewing from vintage patterns fun for me.
Is it terrible that my favorite part of the image is the little green cartoon gloves and how they hit ever so precisely near the end of the sleeve? Maybe I was a glove (or sleeve) designer in a past life. Sleeve designer? Sorry, it's late.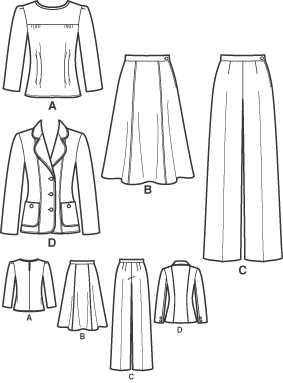 Anyhow, I'm currently working on the shirt in a soft grey shade in quite a
luxe
fabric. I envision updating this vintage style piece in the early fall by wearing it with denim trousers, a pair of booties, a deep red matte lipstick, and a statement ring. As the weather cools down, I could add a cropped leather biker jacket to keep the look current and a little unexpected.